My Mountain Cashmere is not lighting up at all
1) Make sure there is power going to the outlet you're using. Plug something else into that outlet to test it. If that item doesn't work, try a different outlet for your tree. If using an extension cord, test to make sure the extension cord is working by plugging something else into it.
2) Next, make sure all cords are connected properly. Check each connection point from the power adapter (part that plugs into the wall) to the bottom of the tree. It is a green wire with brown connectors that looks like this: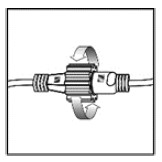 Untwist and unplug the cords, then plug them back together tightly and twist the connector tight to create a secure connection. Also do this for the connections inside of the tree. There is a wire connection that comes out of each pole near the bottom that is the same configuration as the others.
3) The Mountain Cashmere tree has a foot switch unit that turns the tree on and off, and engages the twinkle mode.
Remove the footswitch by untwisting the connectors on either side and unplugging the cords. Next, since all tree sections have the same type of cord, connect the cord of another tree section (middle or top, either one) into the power adaptor directly. You will have to unplug the wires from each other in one of the tree sections and connect it to the power adapter. This will be slightly awkward, as the wire is quite short. Plug into the wall.
If the lights work on this section, it means just the footswitch portion is faulty, and we will send you a replacement.
If it still doesn't work, then the power adaptor itself is most likely faulty, and we will send you a replacement.
Please fill out our HELP FORM to request this.
Please let us know if you have this issue by sending us a HELP FORM.